It has just been seven years since the last news of Paolo Dall'Oglio, the Italian Jesuit priest who was kidnapped in August 2013 in the Syrian city of Raqa, in the northwest of the country, by members of the Islamic State of Iraq and the Levant (ISIL).
Dall'Oglio had arrived at the end of July of that year in the city, at that time capital of the self-styled Islamic State or ISIS (for its acronym in English) to meet with local commanders of the terrorist group and negotiate the release of several captives. He was convinced that he could reason with the jihadists. It was not like that, and after the meeting with the leaders of the fundamentalist group, the priest disappeared, without a trace.
"Since 2013 nobody knows anything about Father Paolo. Furthermore, we don't have Internet or television here, so all the news that comes to us from him comes from outside ". This is Houda Faddoul, the current head of Al Khalil, the monastic community that the Italian Dall'Oglio founded more than 30 years ago in the ancient Syrian monastery of Deir Mar Musa Al-Habashi or Saint Moses the Abyssinian.
From Roman tower to sanctuary
According to local tradition, the history of Deir Mar Musa dates back to Byzantine times, when the Romans built a watchtower in order to control the silk road between Damascus and Palmyra.
Musa al-Habashi or Moses the Abyssinian, an Ethiopian prince who, after becoming a Christian monk, decided to settle in the Syrian mountains of Qalamun, northwest of Damascus, arrived at that ancient tower in the 6th century. There, the itinerant pilgrim was gaining some companions and followers who after his death built a small church and founded a monastery in his name.
The monastery remained uninhabited for centuries until in 1982 the Italian Jesuit arrived in Syria to study Arabic and stumbled upon the abandoned ruins of Deir Mar Musa. After a 10-day spiritual retreat, he decided to undertake the task of repairing the sanctuary.
"At first, Father Paolo did not plan to found a new community, he was ready to stay here and simply restore the monastery," explains Jihad Youssef, a Syrian priest and a member of the Al-Khalil Christian community since 1999. However, little by little little "between 1984 and 1991, many volunteers were arriving to rebuild the place. Later more men and women came and together they formed a complete monastic community ".
Thus, from being a simple abandoned monastery in the middle of the Syrian desert, Deir Mar Musa has been transformed into a place of international pilgrimage which welcomes visitors of all cultures and religions.
Along with prayer and manual work, "hospitality is one of the main pillars of the center," reveals Sister Houda. "We welcome anyone who comes to visit us, whether Christian, Muslim or of any other religion," he adds.
Like all the monks and nuns of Deir Mar Musa, Houda believes that her mission is to foster a positive relationship between Christians and Muslims in Syria. "Before the war, we organized workshops and invited Muslims, Christians and also people of other faiths," he enthusiastically recalls. "Even today," she continues, "Muslims in the area maintain the custom of going up to the monastery on Fridays [su día festivo] and have lunch with us ". These relaxed visits are actually the fruit of the great network of relationships that, for more than three decades, the inhabitants of Deir Mar Musa, led by Paolo Dall'Oglio, have been weaving with the Islamic world.
Driven in his I work for Christian-Muslim dialogue, Abuna Paolo (as he was known among the locals, and which in Arabic literally means "our father") maintained a close relationship with the surrounding Muslim world and recognized Islam as an equally valid religion.
"When Paolo arrived here, he felt in his prayer that God was sending him to build bridges and harmony between Christianity and Islam," says Youssef. It was precisely in Deir Mar Musa that he began to hear a different discourse about other religions. "We were not used to being open, we tended to believe that we are always right, that others are wrong and do not know what they were missing. But here I found a different discourse "he assures. "It is not about discussing what is right and convincing the other, but about respecting and loving each other because we worship the one and the same God. There are many things that all human beings of different nations and religions share and we can commit ourselves together for the good common, "he adds.
Between tradition and modernity
Perched high on the eastern slopes of the so-called Anti-Lebanon range, the Mar Musa al-Habashi monastery could not be more remote. To get there it is necessary to travel through the desert city of Al-Nebek, 80 kilometers from Damascus, and drive a few more through the semi desert. The last 30 minutes of the journey are undertaken on foot, climbing a narrow path of stairs that lead to a medieval-looking building. Within its ancient stone walls coexists the small religious community that has perfectly integrated tradition and modernity into their lifestyle.
"In Mar Musa we are now four professed who have taken the final vows, two monks and two nuns," says Jihad. "In addition, we have two more communities: one in Cori, near Rome, and another in Sulaymaniyah., in Iraqi Kurdistan. In total we are eight members, if you do not count Paolo, because we do not know if he is alive or dead ", he clarifies.
Among the singularities of this place, it stands out that men and women pray and work together, although they live separately, something "completely new in the Catholic Church," says Jihad. In addition, although from the canonical point of view the Mar Musa community belongs to the latter Church, its members come from different branches of Christianity.
All of them share the fact of having voluntarily chosen a very simple life and harmonious coexistence with nature. Thus, the monastery uses a solar water heating system and supports ecological projects in the desert that involve the entire local community, such as the cultivation of wild almonds or artemisia to combat desertification. "Although unfortunately all these initiatives stopped with the war," adds Jihad.
Talk about past and present to build a future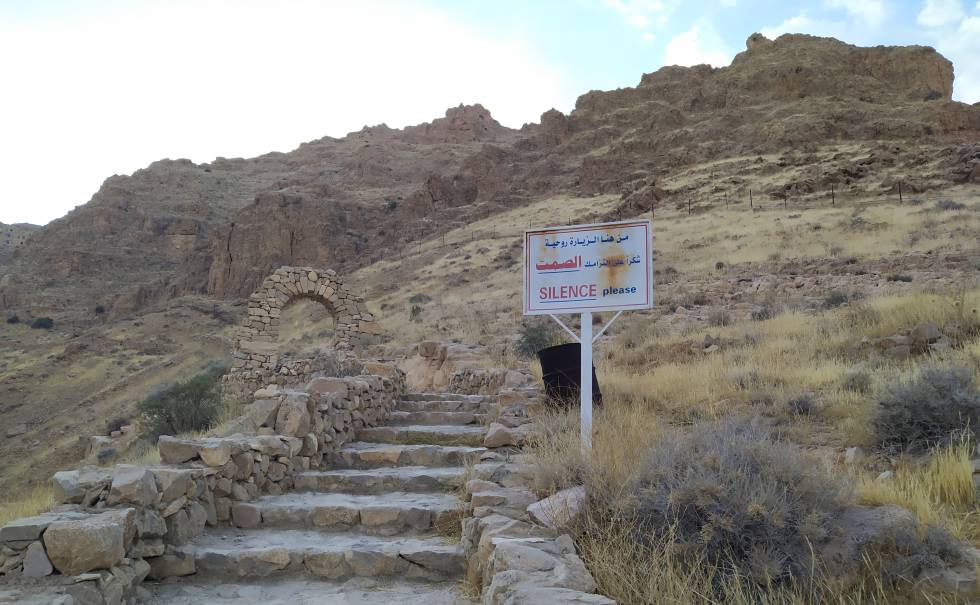 Al-Nabek, part of the Rif Damascus province and the region where the Mar Musa monastery stands, was one of the areas affected by the devastating civil war in Syria that it has killed more than 384,000 people and caused nearly six million refugees.
In the surroundings of this arid city of some 50,000 inhabitants, intense clashes were experienced between the Government and the rebels of Hayat Tahrir al Sham (HTS, umbrella of radical factions and former affiliate of Al Qaeda). The last one, between July and August 2017, gave victory to the regular Army troops who, together with Hezbollah, expelled HTS from the place. Since then Al-Nabek and its surroundings have remained under the control of Damascus.
"During the war we were afraid that something bad would happen, and that Mar Musa would be destroyed. It is not very difficult to manipulate someone into killing or attacking another when politics and religion mix, "Houda reflects. Deema, a member of Mar Musa and the current manager of the monastery library, agrees: "There is always something scary; I remember one of my friends saying: 'I am not afraid of death, but I am afraid of dying at the hands of a friend'. This is the concern that arises among people of any religion when there is a war.
Faced with the initial fear, for the community of Mar Musa the conflict was really a decisive moment: a way to verify that all the years of dialogue and friendship with the umma Islamic had paid off. "At one point we were not allowed to go to the city and, although the shepherds of the region were forbidden to come here, there was a Muslim goatherd who used to visit us at night. He brought us bread, milk, cheese, and asked us what we needed. It's a minor detail, but I think it's the result of everything we've been doing for a long time, "Deema says.
At the same time, the members of the Al-Khalil monastic community had to "rebuild" their relationship with the local, mostly Muslim: "We asked our friends in Italy for donations to buy a generator for the Al-Nabek hospital, as there were a very big problem of fuel shortages and they often had no electricity, "says Houda. "In addition, during the war we wanted the people who came here to relax, especially with the terrible economic crisis we are experiencing, so we do not ask them to bring anything, and when the time comes to prepare the food we serve them something simple and healthy ", he adds.
In a country where multiple religious confessions and ethnic groups are intertwined, the civil confrontation and the sectarianism that followed further deepened these differences. People lost confidence and fear of war prompted people to identify with their communities and religious groups.
"Certainly the war has sparked hatred among human beings and, in addition, there has been a great demographic change in Syria," acknowledges Jihad. "This is not a good thing, but the positive – he continues – is that now we are open to recognizing the differences that exist between us and to speak explicitly about them". The priest assures that it was not like this before: "We thought we were a nation, but in reality society was fragile. Our unity had been built solely on theory and, although we were not at war, we were not living in peace, "he states bluntly.
Jihad admits that conciliation in Syria is not an easy task, since "many people lost friends, fathers and mothers, there are six million refugees outside Syria, and many more internally displaced people who lost their homes and their memories" . In order to achieve reconciliation, "political stability and people willing to work for peace" are first needed, says the priest. For this reason "it is necessary to start talking about the past and the present, in order to build a future; otherwise we will continue like this for 50 more years and then there will be another war ".
"Although it is a fact that we have different ways of thinking and different religions, we cannot forget that there is hope and we are sowing it everywhere to build a better future for Syria," he concludes.
You can follow PLANETA FUTURO on Twitter and Facebook and Instagram, and subscribe here to our newsletter.



elpais.com