They have labeled Latin America and the Caribbean for years as a young region. What remains. People over the age of 60 represent on average only 13% of the population. Only Barbados and Uruguay are close to 20%. However, Latin America will not be forever young. It is the fastest-aging region of the world. It is estimated that in 2050, 27.5% will be over 60 years old, one in four inhabitants. And in 40 more years, in 2090, it will already be the region with the oldest population in the world. 36% of its population will be over 60 years old, according to the world population perspectives made by United Nations.
It does not seem like a long time, but it should be enough for the countries of the region to adapt their protection systems and transform their economies in favor of improving the quality of life of their elders. "It is a challenge and an opportunity. Demographic change is coming very fast. We must begin to see this issue in the medium and long term, and our challenge is to make the region ready. And we must see it from two perspectives that must be made visible. One, more negative, will mean having to care for more elderly in poor health conditions. The other, more positive, is that there will also be more and more older people in good health, with the desire and ability to continue contributing to society and enjoy life. There is also an opportunity economically speaking "says Masato Okumura, co-main author of the publication through video call. The silver economy in Latin America and the Caribbean: aging as an opportunity for innovation, entrepreneurship and inclusion conducted by the Inter-American Development Bank (IDB).
The starting point is not the best. The cities of Latin America are not, today, places where people age well. They know it in the popular neighborhoods of the South of Bogotá. There Luis García, 62, does not receive a pension, only an aid of 125,000 pesos a month from the mayor of the Colombian capital, about 30 euros. He makes a euro or two more a day selling garbage bags and incense sticks on the street. His health situation is also delicate. He has arthritis and a disability due to the sequelae left by cerebral palsy, as well as gastritis and depression. He is alone, without family support, and has to pay the rent for the modest room where he lives.
By 2090, Latin America and the Caribbean will already be the oldest region in the world. 36% of its population will be over 60 years old
Doña María Gutiérrez lives nearby. At 70, she has a very active community life. Before the pandemic, she went twice a week to the neighborhood dance group and had only just started secondary school after finishing primary school. Doña María was left a very young widow, but she brought up her two daughters. She does receive a pension of 800,000 pesos, about 200 euros a month, very little for the more than 30 years that she worked. With that money she solves her basic needs because fortunately for her she has her own house and does not have to pay rent.
Don Luis and Doña María are two sides of the same coin and are part of that Latin American older adult population, as heterogeneous as it is vulnerable, often invisible and with little social protection. Thus, the question is whether Latin America will be prepared to face the aging of its population and whether it will have sufficient capacities and resources to meet their demands. Much has to change things. The challenges are enormous.
Pensions, health and dependency
The pressure of the aging population should make it essential to implement profound reforms in Latin American public policies with regard to pension systems, health and care for dependency. "Public social spending in general is biased in Latin America and the Caribbean towards older adults with contributory pensions, which in some countries are generous, but they eat up a large part of public spending; in others, where due to the informality of the economy, there are few people covered by a contributory system, and in other cases many people receive very insufficient pensions. They are generally outdated and unfair systems that must be made more flexible ", says by video call Marco Stampini, also co-author of the publication on silver economy and leading specialist in the division of social protection and health of the IDB, an institution that in 2015 created the Network of Pensions in Latin America and the Caribbean (Red PLAC) as a space for debate on the present and future of pension systems.
With regard to the health of the elderly in the region, a worsening is also expected for 2050, which is not only related to age issues, but due to trends such as lifestyle and poor diet that there would still be time to reverse. And is that diabetes or risk factors such as high blood pressure are increasing in some countries of the region in a worrying way. "Health systems must be reformed, prioritizing primary care and personalized care to put more focus on chronic diseases," says Stampini.
Likewise, the autonomy of millions of people will worsen in 30 years. Today eight million older adults present functional dependence in the region. It is 12% of people over 60 years of age. In 2050, they estimate that they will exceed 27 million. Stampini is a great connoisseur of this reality and also co-author of another of the publications on the subject. Is called Aging Carefully: Care for Dependency in Latin America and the Caribbean and highlights the need to start building long-term care systems and sensitize political decision-makers and civil society. "In the matter of care there is almost everything to do. Only Uruguay and to a lesser extent Argentina, Chile and Costa Rica have begun to implement dependency care systems. It is urgent to start building them ", says the expert.
However, the public sector, with exceptions, does not see as a priority to act against the aging of the population. Nor does the private sector seem to see profitability yet. The IDB is one of the few institutions that has been warning for some years of the need for the region to begin working for its elders and trying to put this issue on the agenda. Social protection and health with its need for urgent reforms are essential for this entity, which also believes it necessary to focus on other aspects that have to do with economic opportunities related to the demand for goods and services of the elderly population such as consumers. It is part of the so-called silver economy aimed especially at those older people who, despite their age, will continue to lead an active life. Experts warn of the potential of a sector that starts from practically zero and that it should be looked at in the mirror of Europe or Japan where the silver economy has become an economic engine.
The sector has potential, and should be looked at in the mirror of Europe or Japan, where the silver economy has become an economic engine
Countless investment and innovation challenges and opportunities have already been identified that have the potential to become solutions for older people. They have to do with health services, care for dependency, financial products, housing, adaptation of urban infrastructures, transport or consumption; Sectors such as tourism, fashion, food or leisure can be very relevant.
Other more inclusion options related to the active participation of older adults in the labor market or in the educational offer are also raised as challenges and opportunities. "Around the silver economy there are many potentials and we want to promote the entrepreneurship of young people and even older people who can give ideas for innovative services and solutions that we can finance. One advantage we have is that there are already good experiences in other parts of the world to learn from, "says Masato Okumura.
Uruguay, the advantageous
Uruguay will be the IDB's test bed. With just 3.5 million inhabitants, of which 19% are already over 60 years old, it is one of the few countries in the region that is having the political vision of beginning to emphasize the aging of the population. Uruguay already has a national long-term care system and also has good levels of social protection, among which is the universality of its pensions
The IDB wants to develop an entrepreneurial ecosystem project for the elderly market in the Uruguayan country. "It is an economy that I call an invisible economy that nobody pays attention to. There is almost everything to do. We want, first, to create knowledge about older adults; second, to raise awareness and, then, to see how we can mobilize the local and regional entrepreneurial ecosystem to, from our role, help them to create quality services and products that satisfy the demand of the elderly without forgetting to revalue the knowledge they have and what they they can help us, "explains Ana Castillo, senior specialist at BIDLab in Uruguay, by video call.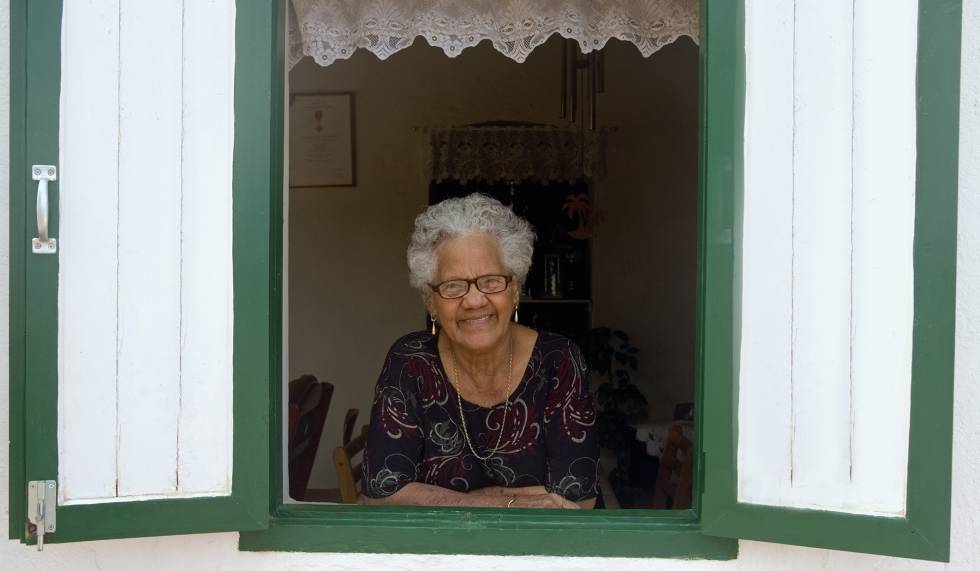 The pandemic can also be seen as an opportunity. Uruguay knew how to face and control it well, but no one is aware that covid-19 has exposed the physical and social vulnerability of older generations. 30 years after Latin America and the Caribbean are an older region, Masato Okumura, Marco Stampini and Ana Castillo want to be optimistic. Whether the wrinkle is beautiful in this part of the world will depend on many factors. "I would like our elders to have access to the opportunities that interest them, be they employment, entrepreneurship, education, consumption or entertainment and that they are taken care of," says Masato. "They should have good pension coverage that reaches all people, quality health services very close to them and an insurance against the risk of dependency. At the same time, I would like this battle against ageism to be won and for the elderly to see themselves as part of society and participate. It would be a scenario with very little inequity and inequity is a characteristic of Latin America and the Caribbean. I see it difficult for these inequities to disappear for older adults in 30 years, but I want to be optimistic, "adds Stampini.
You can follow PLANETA FUTURO in Twitter and Facebook and Instagram, and subscribe here to our newsletter.



elpais.com