From the age of six, Evelin Rolón lived in homes supervised by the State. In December, at the age of 23, the young woman returned from the institution and moved into an apartment alone. Less than three months after her move, mandatory isolation began in Argentina to prevent the spread of covid-19, and her experience of independence was very different from how she had imagined it.
"In this new stage, I believed that I was going to be accompanied by my friends. It was a very big change for me and it was shocking to be alone. I'm in touch by video call, but it's not the same. I was with all the enthusiasm to buy the refrigerator, the furniture, the chairs. All my things. I am going to equip myself in these months to receive my friends in the post-quarantine period ", says Rolón.
A few days before the isolation began, Rolón changed jobs and did not get to interact with his colleagues. Today, telework from home. He is also studying business administration virtually. "The quarantine generates anguish and a lot of uncertainty," he says.
From the age of 15, the young woman rotated through different foster homes. "I moved a lot and so much rotation made me lose a lot of people. Only now, when I grew up, did I begin to have strong ties: I have friends that I made through Doncel, others from the faculty, and some from high school. I was able to break with that idea of ​​a typical family, of mom and dad. I built a different family with people who love me, "says Rolón.
To feel accompanied, Rolón participates in meetings of listening and contention generated by Guía Egreso. It is a group created by Maiden, a civil association that seeks to improve the transition of these young people to their adult life.
A listening space among peers
The Guía Egreso youth participation group, made up of adolescents and young people who live or have lived in homes, meets every Friday through video calls. There, they share experiences about isolation, support each other and exchange resources. Those who have already left the foster home report the difficulties they have in maintaining income, because they tend to have precarious jobs. Also, they help each other to manage the different available state resources. The particularity of this space, in which 25 young people participate, is that it is a meeting between peers, which works as a protective factor against violence, abuse or neglect that can be generated in contexts of isolation.
From the Egress Guide in 2017 the sanction of the Egress Law, which implied the creation of the Accompaniment Program for the Discharge of Young People Without Parental Care (PAE). The legislation promotes two stages of accompaniment: in the first, from 13 to 18 years of age, adolescents living in care facilities have the right to have emotional accompaniment (by a reference) to prepare for their departure. In the second stage, they are entitled to a monthly economic allowance equal to 80% of the minimum living and mobile salary, between 18 and 21 years old, in addition to continuing with the emotional accompaniment. The PAE in this context is fundamental, but not all are agreeing to it due to lack of implementation in some Argentine provinces.
Rolón, who has a reference, says that she is present all the time. She says: "When the quarantine began I told her that I did not feel like studying virtually, that I was tired of the computer. And she always encourages me. That support for me is fundamental ". In addition, it highlights the importance of financial aid. She adds: "In this pandemic situation, I am not going to minimize it. As much as I have a job, it helped me a lot to equip myself ".
Luciana Ludmila Alegre also participates in these weekly meetings organized by the Egreso Guide. She is 19 years old and lives in a home in the Balvanera neighborhood, in the City of Buenos Aires, with Toto, her four-year-old son. In Argentina, around 15,000 children and adolescents live in homes supervised by the State.
"Every Friday I participate in virtual meetings because they serve me a lot. We tell each other how we're going, we talk about the things we learned in quarantine, and we send each other TikTok videos to laugh for a while and distract ourselves. This is a space that contains emotionally, "says Alegre. She has resided in the home since she was 16 years old. Before, she lived with her parents and 12 siblings in an informal settlement.
Luciana mentions that many times she feels identified with what other young people in the group have to say. "We went through similar stories. It is not the same for a professional to speak to us than for a kid who went through the same thing, "she explains.
In this sense, Evelin comments: "When I talk to other friends it is not the same. If something goes wrong for them or they lose their job, they can live with their parents, a grandparent or a relative. We are all the time with the fear of losing everything. It is a logical fear for our life stories. One like that feels understood all the time. "
This meeting space showed that the health emergency supposes a number of possible risks for children and adolescents residing in institutional spaces. This situation generates anger, annoyance and a lot of stress. Many children, because of the isolation, had many of the psychological, psychiatric, addiction and occupational therapies suspended. Added to this, there are issues that are exacerbated with the confinement. Isolation is affecting teenagers' sleep habits and patterns. In the case of graduates, being isolated in solitude is added.
"Now is when we need more support and there are fewer professionals than they should be. I used the therapy space a lot, and I'm not having it, "says Alegre. Evelin has been in therapy for a while. "It came to me great because, when I started, I was desperate because I couldn't get a job. I was wondering what's wrong with no one hiring me. The therapeutic space helped me a lot to understand that it did not depend on me, but that it was a moment that the country was going through in relation to the job market for young people, "he says.
Quarantine at home
In Luciana's home there were no cases of covid-19, but in other homes in the country there were. The coordinator of the Doncel Youth Area, Jessica Waksmann, comments that in recent weeks many cases of contagion have been known, especially in the City of Buenos Aires, both among children and staff. Some who participate in the Egreso Guide meetings were even isolated due to being close contact.
Luciana says that some of her companions have siblings in other homes, in which there was some case. "They had to be taken to another place, to the home of the household operators or some other volunteer family. It is difficult for children because they get used to living a house with different routines. They live things that they do not have or do not do at home and then it is difficult for them to want to return. They may believe that these families are going to stay with them ", says the young woman.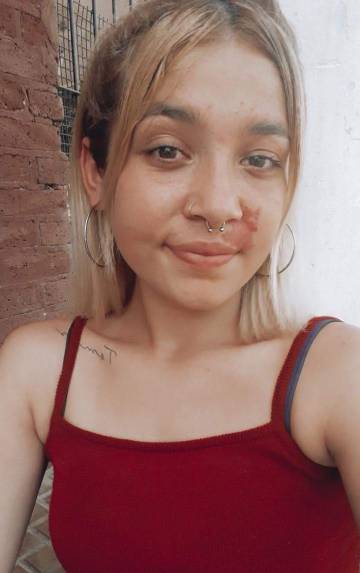 The lack of communication and connectivity devices limits the possibility of maintaining the bond with family, references and friends outside the institution. Children worry about the health and safety of their referents and relatives. In many cases, they report that their families are in a worse situation than theirs at a socioeconomic level and that distresses them. "Outside we have brothers, sisters, some of us have a mother or father, who are having a hard time, too. I contacted a sister with whom I had not spoken a long time ago and I am calmer because I know that she is fine ", says Luciana.
Alegre is in her last year of high school. Due to the quarantine, they put WiFi in her home and brought two computers. Children in institutional care do not have many spaces to study and need a lot of support to continue school. There is not always enough connectivity or computers to study or perform virtual tasks. In many cases, the ability to connect is left to the discretion of a worker lending their device to do so.
Luciana's routine at home starts early. After eating breakfast, help with cleaning. Then she watches pictures with her son and the girls. Regarding living together at home, Luciana believes that the quarantine helped to improve the bond with her companions. "Two girls, who were pregnant, had their children in the middle of this chaos. Those of us who are already mothers try to contain and reassure them, "she says.
At the Alegre home, all the protocols indicated are followed to take care of the contagion of covid-19. "If I go for a walk with Toto, we do it with a mask. Fewer operators come so that there is less circulation. Before there were two or three per shift. Now only one. The director stayed with us since the mandatory quarantine was issued, "says Luciana.
The decrease in household personnel is mainly due to the fact that many workers are a population at risk and therefore are on leave. Some also have difficulty getting to the Home because they live far away and there are problems with public transportation. At the same time, this exceptional situation had an impact on the way of bonding between adults and children. The caregivers are proposing and doing more recreational activities with the children, supporting them in their homework and supporting emotionally. This generated a back and forth and changed the image that the boys have about the caregivers. The bond is strengthened more from the affective.
You can follow PLANETA FUTURO in Twitter Y Facebook and Instagram, and subscribe here to our newsletter.



elpais.com