The first Nansen Prize was awarded to a woman: Eleanor Roosevelt, first chair of the UN Commission on Human Rights and First Lady of the United States during the presidency of Franklin D. Roosevelt. That happened in 1954, when the UN Refugee Agency (UNHCR) created the award in honor of Fridjof Nansen, who was the first High Commissioner for Refugees of the League of Nations, between 1920 and 1930, and Nobel Prize for La Paz in 1922. He, who crossed Greenland on skis when nobody had done it, in 1888, was the one who said that thing about "the difficult is what takes some time; the impossible, a little more".
Something now unites both characters with Mayerlín Vergara Pérez (Sahagun, 1975). The Colombian activist has been distinguished with this recognition, known as the Humanitarian Nobel Prize, this 2020. And eradicating sexual exploitation and helping victims in her country is a difficult feat but less impossible than two decades ago, when she began her work to to get it.
At the age of 18, Vergara began teaching elementary school children in Cali. "I began to listen and know their stories, which were very painful. Many were in a very vulnerable situation," she recalls. "On one occasion, I asked them to write a Christmas letter. And a boy said she was asking for food and a refrigerator because there weren't any at home." That marked her, but it was two years later that she received the knock that pushed the teacher into activism. "I was already living in Cartagena and I saw two kids of four or five years old consuming glue. And I told God that I would dedicate myself to helping them." For this reason, when she moved to Barranquilla and saw that an NGO was looking for a psychologist in an advertisement in the newspaper, she did not think about it. "It had nothing to do with me. I did not know what an NGO was or was a psychologist, but it was daring," she laughs from the UNHCR office in La Guajira, where there is a good Internet connection to hold this conversation by videoconference.
He sent his resume and the next day he was in a job interview in which they explained that the organization worked with girls, and also boys, victims of sexual exploitation. "I think they need a person to listen to them," she said. That phrase, she assures, earned her the job: 24 hours later, on July 23, 1999, she began as a night educator in one of the shelter's homes. Renacer Foundation, entity in which he still works. "She entered at six in the afternoon and left at eight in the morning. There you see the daily lives of the children, also their moments of crisis because they suffer anxiety about drugs or because of the memories of prostitution." That was her task and her life for seven years.
"I even remember their names," he admits despite the passage of time. "When she was two months old, a pregnant girl arrived and had her daughter. Today, 21 years later, that baby is studying Sociology at the university," says a proud Vergara, who also attended the same career. "We not only saved her, but the next generation, also the other three children she has had with her husband," she gets emotional.
After that period, he moved to Cartagena, where his work was different. He went from mending broken lives to trying to prevent the problem. He began to design training and awareness programs for teachers and agents of the tourism sector. "It was hard for hoteliers to see themselves as part of the problem, in order to be part of the solution," he acknowledges. From that effort the strategy was born The wall is me to fight against the commercial sexual exploitation of children and adolescents in the context of travel and tourism.
This awareness-raising work is very important, defends the activist. "The abuses are perpetrated by parents, a family member. And people are sensitized. But in the case of exploitation and trafficking, they think that they like it, that they earn a lot of money and that even the pimp is helping them," he explains . To end this crime and violation of the rights of minors, it is crucial that teachers, community leaders, businessmen, all, learn to identify the victims. Before we found it in the streets, but now they are in the classrooms, it aims. "Whenever we organize workshops in schools, we find cases of trafficking, exploitation and abuse."
She has learned to identify victims over the years. Then comes everything else. A "tough process" of rapprochement and trust building. "We go to places where we know that contacts are established or exploitation itself occurs. We sit next to the girls and begin to talk about anything. But we are unknown adults, and normally it is adults who have violated their rights," she details Vergara. Afterwards, they talk about the Fundación Renacer program. Some join quickly and others take weeks or months to take the plunge. "It is not easy for them to go through the therapeutic process." When they do, another chapter begins.
In the case of exploitation and trafficking, it is thought that they like it, that they earn a lot of money and that even the pimp is helping them
Once they are welcomed by the organization, "the first thing is that they feel at home." Then will come the talking, the sessions to express your emotions and cry to heal. "They are my heroines, they are the ones who deserve this award." The recognition is mutual. Survivors frequently write letters of thanks to Vergara. "In sad moments I think that many of the girls, without our work, would be killed by suicide or murdered by criminals."
Two years ago, Vergara changed course again, but not the goal. In 2018, she visited La Guajira to write a status report and assess whether the Foundation should open a program there. "What I have seen there is the hardest thing I have seen in my time in the organization," she says. The largest concentration of Venezuelan refugees and migrants in the country resides in this department on the border with Venezuela, the fourth poorest in Colombia. They represent 16% of the total population, according to UNHCR data. "We found girls captured to be exploited, girls who cross the trails alone, informal border crossings, dangerous roads where they are abused, and end up being prostituted. Girls living with men who triple their age in exchange for food and shelter. Girls who at 12 or 13 they tell you they don't want to live. "
There were reasons. But who was going to run the show? Vergara volunteered and moved to Riohacha where, in April 2019, he opened the Inpatient Care Center of the Renacer Foundation. It was the first time he had faced a similar challenge and he was afraid he would not do it well. But she got a suitable house, with wide spaces where the girls could play and others where they could be alone. "We had to build a kitchen, bathrooms and a laundry area because before it was a school and there wasn't." To do this, she received help from UNHCR, and also from Unicef and the International Organization for Migration.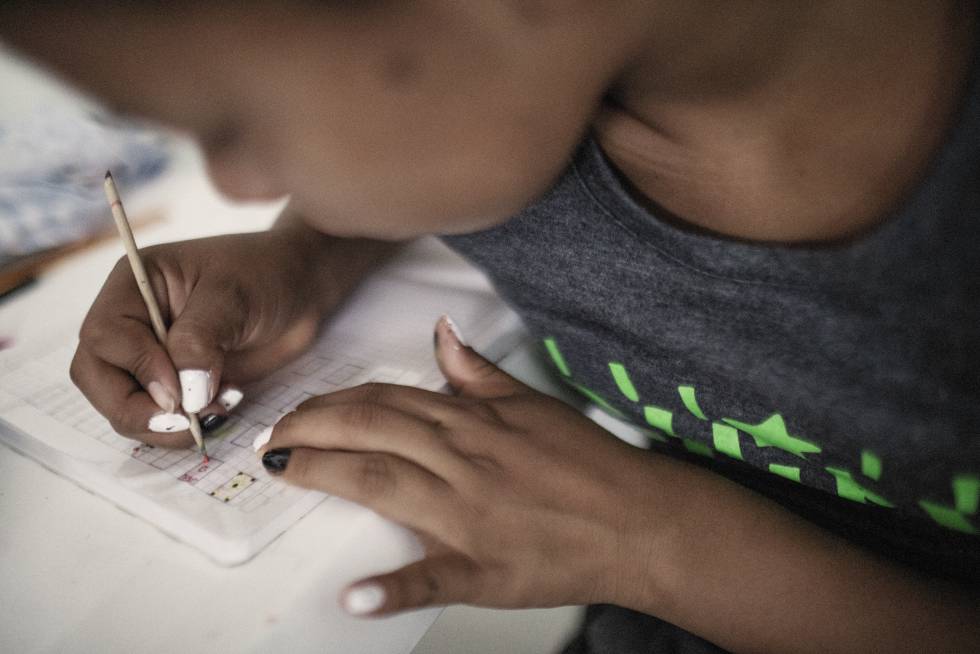 The first tenant was a Venezuelan Wayú indigenous girl. "She had been a victim of sexual abuse since she was a child and after exploitation. Before we opened the house, she wrote us messages saying that she wanted to die," recalls Vergara. "It is very hard. It is so much damage that is done to girls, and also to boys," she gets emotional. Since then, the center has treated 75 of them, of which 18 were victims of trafficking. "They catch them in Venezuela, take them to houses where they are lying on mattresses on the ground and are exploited," he describes. "Others arrive alone and are captured here," he continues.
Her career, but especially this last stage in La Guajira, has been key to being recognized with the Nansen Prize for Refugees, endowed with $ 150,000. Vergara already knows what he is going to dedicate them to: "I am going to propose to buy the house in which we are renting." Any help is welcome and, in light of the data, necessary. Between 2015 and 2019, the number of victims of human trafficking identified in Colombia increased by 23%. And only in the first five months of 2020, the Colombian authorities had already registered a 20% increase among non-Colombian human trafficking victims compared to the total number of victims for all of 2019.
In addition to the check, for Vergara, the award has another value: that of the visibility of his cause. The Committee that decides who is awarded, made up of representatives of the Norwegian Government, the Swiss Government, the Council of Europe and the President of the Executive Committee of UNHCR, among others, has decided that this year, Vergara will be the protagonist in the ceremony of delivery of the next October 5, virtual this edition, which will be broadcast in Spanish in the UNHCR YouTube channel. The gala will feature the participation of the Commissioner, Filippo Grandi, Isabel Allende, Angelina Jolie, the Mexican actor Alfonso Herrera as host of the event, as well as the Colombian singer Juanes.
Just to Vergara, for the first time in the history of the award, four other women will be recognized with the Regional Nansen Awards: Francoise Sabuni Chikunda, a refugee school teacher from the Democratic Republic of the Congo living in Uganda; Rozma Ghafouri, an Afghan refugee living in Iran, an aspiring soccer player who uses her love of sports to get refugee children off the streets and into the classroom; Tetiana Barantsova, an activist from Ukraine, co-founder of AMI-Skhid, an NGO that advocates for change and protection of the rights of people with disabilities, including internally displaced disabled people; and Rana Dajani, a scientist and mother of four who seeks to make reading and learning accessible to refugee children.
You can follow PLANETA FUTURO in Twitter Y Facebook and Instagram, and subscribe here to our newsletter.



elpais.com